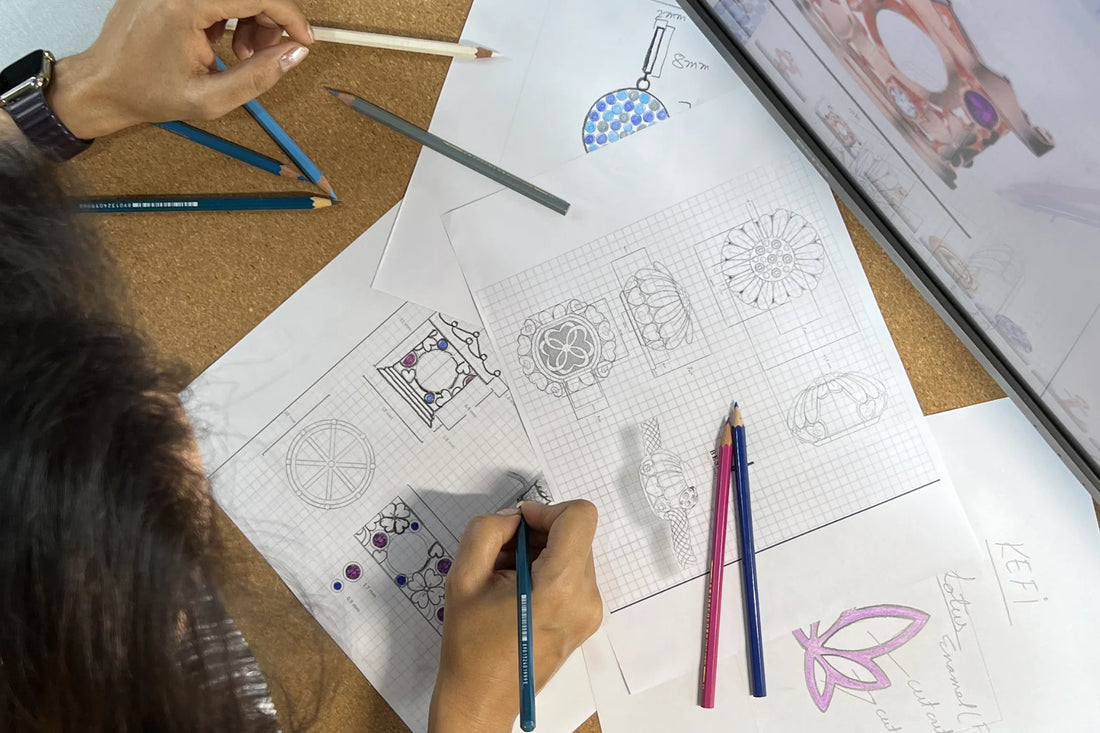 Monika - The Jewelry Designer Behind Y Jewelry
Meet Monika, the woman whose vision and creative genius have given a new definition to fashion jewelry. Y Jewelry continues to provide classy, graceful, and versatile jewelry products, a testimony to Monika's unparalleled craftsmanship and skillfulness.
Monika's consistent efforts and creative vision have made Y Jewelry a recognizable brand. Her extensive experience in the industry, training and skills equip her to provide unparalleled craftsmanship. Her desire and philosophy are to combine modern jewelry designs with traditional classics. This is why our jewelry collection stands unparalleled and unique to this day.
The Passionate Genius
Monika's deep love and passion for unique jewelry have made her an unbeatable force in the jewelry industry. Along with her fifteen years of experience in the industry, she combines her insatiable curiosity and passion for all things beautiful to craft mesmerizing designs.
Her Indian roots further contribute to the dynamism she brings to her work table when producing stunning jewelry pieces. While every country has its unique jewelry trends, traditions, and designs, we all know India's contribution to the jewelry world is on a phenomenal level.
Monika's native training and knowledge of Indian jewelry have helped her blend contemporary styles with her cultural influences, as is evident in Y Jewelry's collection.
What Jewelry Means for Monika
Monika has made her mark in the jewelry industry and established a renowned brand reputation for Y Jewelry due to her ethnic roots. Her background plays a symbolic role in her creative vision and makes jewelry significantly meaningful for her.
Jewelry designing is not merely a career for Monika: it is her form of expression, a timeless joy, and a way to experiment with contemporary beauty. For Monika, every jewelry piece she designs is deeply meaningful, and every fine detail in her design is representative of the depth of passion and ideas behind it. 
Every jewelry piece that takes shape under Monika's skillful hands is symbolic of undying passion, a vision beyond the ordinary realm, and art at its best. Her extraordinary jewelry designing skills make each jewelry piece becomes more than just an adornment: she lends an almost mystical quality to each item.
The Creation of Y Jewelry - What Made It Possible?
When Monika realized her lifelong calling of jewelry designing, she knew she wanted to share the gift of creativity with the world. Combined with her extensive learning and the rich jewelry traditions of her Indian roots, she wanted to build a platform where she could make her beautifully crafted pieces available for all.
Being a modern woman, Monika also has many stories to tell through her jewelry designs. This is how the concept of Y Jewelry came into being. Through Y Jewelry, Monika has a platform to express her emotions and helps clients do the same.
Monika created Y Jewelry to use the brand for celebrating special moments and reminiscing experiences. She shares her journey with the world by crafting meaningful and customizable jewelry for all at Y Jewelry. It wouldn't be wrong to say that Y Jewelry's mission statement is to empower, celebrate and spread happiness through meaningful jewelry.
That is the crux of Y Jewelry's existence for you!
Y Jewelry - What Makes It Unique? 
Y Jewelry is all about women. Y Jewelry is the depiction, the identity, and the face of women from India to Canada, Sweden to Malawi, and way beyond. Y Jewelry is the platform where women combine and share their universal values of success, care, freedom, aspiration, discovery, friendship, and beauty. 
The simplest truth of life is that women add life to earth. They make this planet so much better to live on. Women are the real jewels in truth. They're the most precious jewels one can find on the face of the earth.
Y Jewelry embraces this truth and builds its mission statement and business vision upon it. This is what makes the brand unique from the others. Women are genuine; hence, Y is real. Y Jewelry helps you cast off the fakeness of digital life. Instead, it makes natural charm accessible to you. You can adorn yourself in jewelry that brings unmatchable value and significant meaning instead of living the fake version of life.
Every brand has a story, and every story is beautiful. For Y Jewelry, beauty is the only true story. And what better way to narrate it than through the 400 unique designs for every woman to celebrate her individuality in a signature style?
Monika's Creative Process - Where the Inspiration Comes From
When clients look at the fascinating jewelry collection at Y Jewelry, they often question where the designer's inspiration comes from. Monika shares how the journey of every finely crafted piece begins with a dream.
The process begins with a dream, which she discusses with her team. The latter are jewelry experts who share the same vision, creative genius, and passion for all things beautiful. Together, they set the direction, create mood boards, challenge their thoughts, and incite the pieces to come together in a powerful setting. 
For Monika and her team, it is imperative for each jewelry item design to speak to the customer and to be relatable to them. Every effort they put in, the endless hours of relentless hard work is to create unique designs that convey a profound message. 
The process continues with detailed sketching on paper, sampling, production, and finally, the launch. Monika draws her design inspirations from passions, bonds, elements, affection, karma, beliefs, interests, and values. 
Other times, some of her pieces are real-life depictions of what she feels, observes, or envisions. For Monika, most of her creative moments hit her before she even wakes up. Her dreams are the greatest source of her inspiration! 
Monika's Message to all the Amazing Customers of Y Jewelry
Monika wants each of her clients to know that they're unique and truly one of a kind of them. She encourages everyone to express their distinctiveness unhesitatingly and through meticulously designed jewelry. 
Monika's every client is exceptional, and she recommends everyone celebrate their individuality with hand-crafted sterling jewelry. Her customizable collection at Y Jewelry has come into existence for this reason: to be a friend to every customer during their life journey. For Monika, YOU are always in her mind when crafting incredible jewelry pieces.