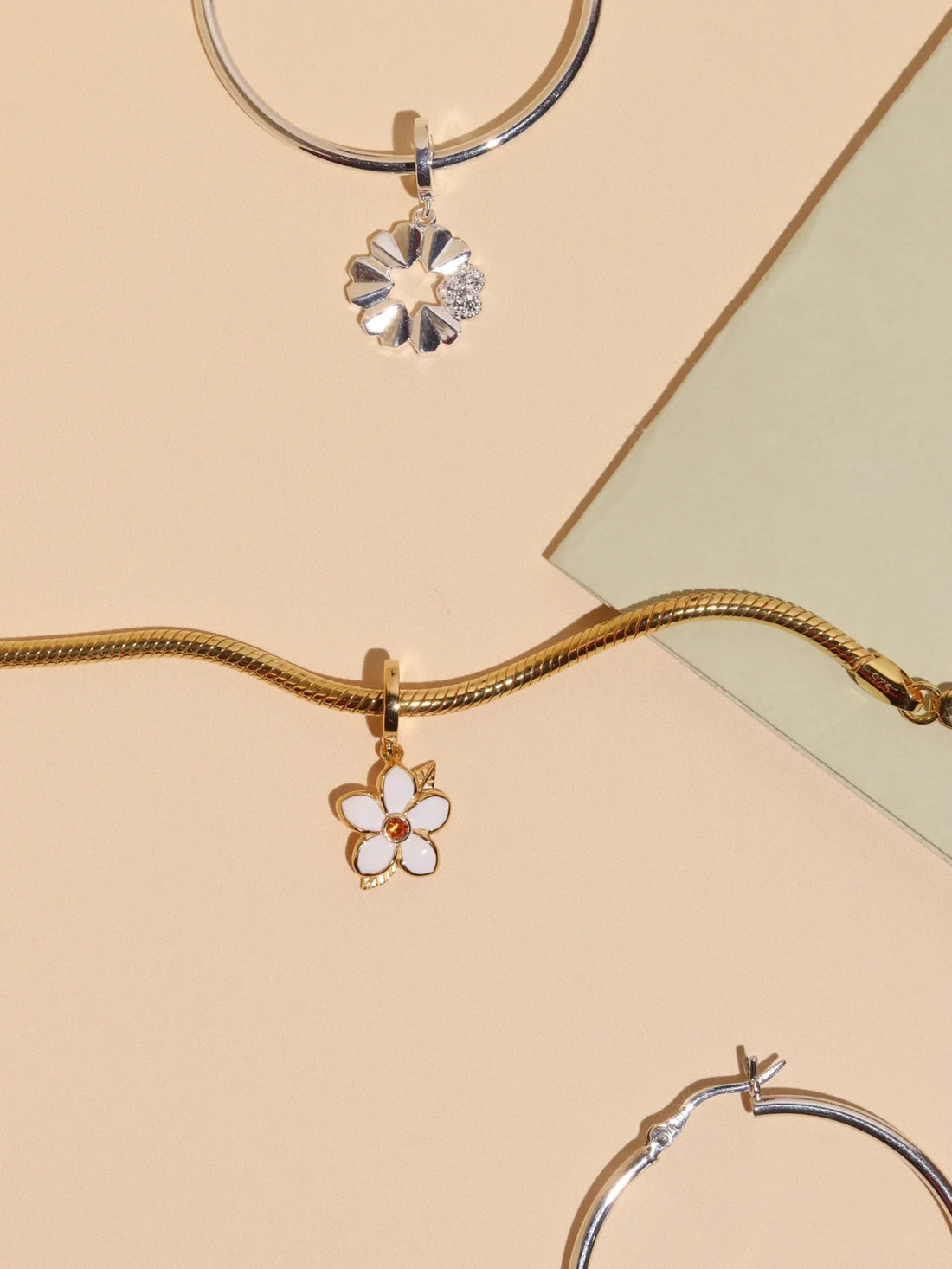 How Many Charms Should be on a Bracelet
Jewelry lovers will confess the weakness they all have for charm bracelets. There's something special about charm bracelets that helps you reflect your personality while customizing your jewelry as per your choice. Take Pandora bracelets for example: these have been trending since the early 1980's. 
Jewelry wearers described it as a magical addition in the industry back then. Perhaps it is the unique production process of the bracelets or the fact they give wearers an opportunity to reflect their identity through the bracelets that have made them so popular. 
Regardless of the reasons, we know that women everywhere love charm bracelets and indeed the jewelry item adds a level of glamour to their outfits. However, due to the extraordinary popularity, there is now a wide variety of charm bracelets available in stores and that creates confusion. 
Many people often feel confused about the appropriate number of charms to fit on a bracelet, what size of charms would be better and so on. The truth is that the appropriate number of charms to include in a bracelet depends on the latter's length, the spacers and clips included in the design and the size of the charms. 
Keep reading below to discover the right number of charms for your favorite bracelet. 
Charm Bracelets- What They're All About
Before we discuss the appropriate number of charms and learn how to mix and match those on a bracelet, let's first explain what charms are. The latter are small decorative trinkets that hang from the length of a bracelet daintily. 
But more than serving as decoration on a jewelry piece, the tiny trinkets serve as a symbol and as a meaningful representation for the wearer. People from the past initially used trinkets are amulets for protection against evil. 
Back then the trinkets may have served as a symbol of warding off danger but today, they're more symbolic of hobbies, passions, travels tales and interests of the wearer. Hence, a charm bracelet is one that features a range of decorative symbolize that customize the jewelry piece and hold meaning and value for the owners. 
The Appropriate Number of Charms for a Bracelet 
The size and length of the bracelet, as well the extra little pieces included in the design determine the right number of charms one can fit on a bracelet. But on an average, we believe the sweet spot would be around three to five charms. 
This range would ensure there is not too much clutter on the bracelet while each trinket will also get a fair share of visibility. However, there are various kinds of charm bracelets available in stores and the following is a quick breakdown of the right number of charms for them. 
For Snake Chain Bracelets- the appropriate number for snake chain bracelets don't really have a fixed limit. The wearer can fit as many charms on a snake bracelet as they please. 
Bangle bracelets- for bangle bracelets, the manufacturers can fill the bracelet about halfway with charms. 
For link bracelets- the right maximum number of charms one can fit on link bracelets is around eight per link. 
Reflexions bracelets- the best range for reflexion bracelets is between five to seven charms.
Sliding bracelets- for sliding bracelets, we recommend a maximum of six charms in one piece. 
How to Mix and Match Charms on a Bracelet 
To begin mixing and matching charms to build your customized and personalized bracelet, we recommend analyzing your lifestyle first. Are you an individual who spends the better part of the day tapping away at keyboards or working in quiet environments?
Or are you the one who leads a constantly upbeat and happening life, in which there is no fixed order or routine. Depending on the category you fit in, you must organize your charm bracelet just as your life and your individuality is. 
If you fit the former category, we recommend picking a thin chain bracelet and adding just one or two small charms, such as our Mandala bead charm, the evil eye intellect or the crescent moon charm. This will ensure minimum distraction when you're busy focusing on special projects for the day and the charms don't keep distracting you or get in the way. 
But also make sure to select charms that are symbolic of your identity, your interests and your passions. Our clients who also are quiet workers like you often pick the bookworm charm, since it represents their lifestyle quite accurately. 
But if you have a lifestyle and work nature that is more loud, energetic and flexible, you can adorn your bracelets with as many charms as fit conveniently without cluttering we also recommend choosing the larger option in that case, such as the all around the world purple charm, shine like a star or the stiletto charm. 
These are perfect representations of a person who breaks out of the restricting order of life and lives as they please. In fact, if you lead a life that allows plenty of space movement between work, then don't only load up on the charms but also choose a chunkier chain to hold them. 
Why stop yourself from making a loud statement when you have the liberty to do so?
Vintage Style
Many charm bracelet lovers these days tend to prefer the more vintage styles. We see many of our clients favoring the antique chains in our collection, while also selecting the more classic charms from our variety. 
Take a look at our mandala bead charm or the bouquet flower charm to create a classic, vintage look. The fact is that building mixing and matching charm bracelets give you endless opportunities for creativity and fun. 
You can opt for delicate looks to the more stand-out, bolder ones or settle for antique designs of the Victoria era etc. Regardless of what you choose, a charm bracelet will never fail to be feminine and bold at the same time, just as the concept intended it to be!
Final Thoughts
Charm bracelets have served as the most popular methods of self-expression since centuries. Back in the old days, people used amulets and trinkets for warding off the evil but now, charms hold a more symbolic and meaningful representation. 
From depicting tales of travel to silently portraying the life story of wearers, charms are more a reflection of a person. At Y. Jewelry, you'll find a variety of chains and charms that will help you create a charm bracelet to perfectly epitomize you!