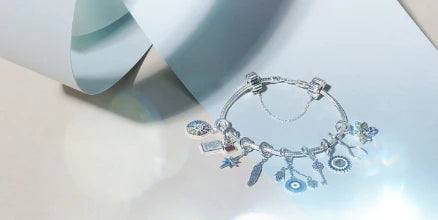 May the light of your soul shine brightly in the world every day
This new collection is infused with positivity, marking new beginnings; living life with you leading the way. It is about taking each step with your love shining bright; the sparkle in your eyes, the confidence you exude. Allow yourself to feel empowered.
Allow yourself to triumph and inspire incessantly, carve your own glorious way. Y Jewelry creates that reminder for you to fabulous, each moment and every day. It tells you to seize the day and be your absolute authentic self.
May you, like the northern star, be the compass that points you in the right direction and leads you to your intended destination. And while you shine brilliantly, let the charm serve as a lucky charm, a source of inspiration, and a source of hope for you. With the exquisite enamelled North Star charm in 925 sterling silver, sparkle with these empowering emotions.
When you wear this faithful charm, you'll feel the powerful symbols safeguarding you at every step. The carefully carved out hand of Fatima is a symbol of power and strength, the beautifully enamelled evil eye is for spiritual protection, and the fortunate
 four clover leaf is handcrafted in 925 sterling silver. 
But nothing puts a spring in your step, as getting on a plane to discover the world. The joy that holding a passport in your hand, as you make your way to conquer new countries. With this lovely passport charm, you may commemorate your
 past, current, and future travel excursions. The globe and passport charm is made of gleaming 925 sterling silver, and the miniature enamelled suitcase will be your case of precious memories. Take it with you on your next adventure to convey that your love knows no bounds.