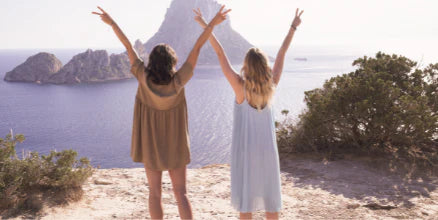 Zodiac Speak: Gemini (May 21 - June 20)
Gemini's are expressive and quickwitted, often likened to having twopersonalitiesand they say that you'll never know which one you'll be dealing with. Theyarefriendly,chatty,and up foragoodtime,butthey have a tendency to become serious, thoughtful and restless at any time. 
Enthralled by the world itself, intensely interested, and always aware that there is insufficienttimetoseeeverything they want to see.
Her company is delightful, and conversations with her will be full of laughter, making her often the centre of the friends' circle, or the most-wanted on all guestlists. And when aGeminiwomanisin love, she becomes unusually forthright, loving, and open-hearted.
Unfortunately, it is impossible to say how long this will last. She is unpredictable and ever-changing, never overly feminine, and rarely wants to be cared for and protected in the traditional sense.
It's simple to find a gift for a Gemini woman. Even if it is notherbirthday, she enjoysreceivinggifts, especially if you surprise her. With simple tastes, she appreciates thoughtfulness.
So a custom gift, that represents her attributes, mirrors her likes is the best gift that one can get her.
Geminis are adaptable and easygoing. They'll gladly follow any plan and are likely to plan some exciting escapades. And if plans get cancelled, they won't let it ruin their day, they will just find something else to do. Make sure to ask the helpof your Gemini buddy whilepreparing events,sincethey often have the best ideas.
Geminis are incredibly intelligent, which explains why they always have intriguing things to say. They enjoy learning because they are inquisitive. You can often spot them reading, be it news, or books of varying natures, Gemini's love consuming information and knowledge.
But beyond anything and everything, it is a family that anchors a Gemini.
They tend to be best friends with their siblings because loyalty and understanding are pre-built into the sibling dynamic.