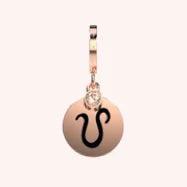 ~ Zodiac of the Month ~ Leo's the fiercest sign in the hood
Leo is the royal one of the twelve signs characterized by a firm and lordly will.
The Regal Leo charm symbolizes the Leo woman – an honest, noble, ambitious, and honorable person.
For those unsure, Leos encompass all the wonderful people who are born between July 23rd to August 22nd. She is ruled by the sun and all its glory, with the fire as her element and the symbol of a lion! They are warm, passionate, and dynamic and Leo's are born leaders and it is only fair to say that they are unique in every way.
Creative at heart, she is passionate about everything. She feels emotions more strongly and loves being admired. So, if your BFF's birthday is coming up, here are a few charms that will make her feel like she is one-of-a-kind
The most wonderful attribute of a Leo woman is that she has a lot of love to give and if you are part of her circle of trust she will go out of her way to make sure you feel treasured. We know that pure love shines – and so does she. She is all heart and protective as a lioness with her herd. A simple heart-shaped charm glowing with the warmth of pure love and sincerity.
A flying high aeroplan charm for the holiday fiend, who loves to travel the world and take in new experiences. Gift her wings to fly high and chase her dreams, with a travel compass that will always guide her home to the people who love her the most.  
The perfect Leo woman sets goals and pursues it with single-minded determination. She also has a taste for the finer things in life, including the wonderful bottle of bubbly to celebrate her achievements and herself! Nothing is cuter than wearing the cute champagne glass charm to applaud those little joys in life.
More than anything, this Leo woman is bold and can rule the roost. She is the #Boss at home and works alike. 
When it comes to romantic relationships, she surrenders herself completely to her partner and they aren't afraid to share their feelings – they tell you how they feel, and they won't mince their words either. So, for those men looking to acknowledge the most wonderful woman you may meet, give her a piece of your heart and let her wear it close to hers.
Playful, fun, loyal, and unique, Leo's mirror many characteristics of Y Jewelry charms. Just like life – fluid, ever-changing, full of twists and turns and eternal in its own way – our jewelry is designed to be your companion on this journey
At Y, every charm and every piece of sterling silver jewelry is hand-crafted and curated because companions for life should be no less.