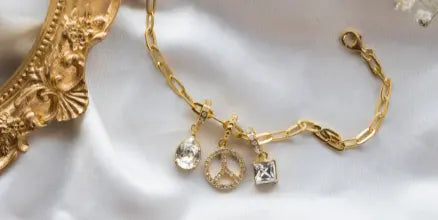 #SparkleYourWay with genuine Swarovski crystals
Our curated collection, embellished with genuine Swarovski crystals, can add sparkle and brilliance to your day. Our specially designed charms ensure that the beauty and authenticity of the Swarovski crystal is unfettered – shining brilliantly as the light hits it – just as you do!
They have that element of elegance, that tease of luxury, timeless style that you desire.
Swarovski crystals, renowned for both their quality and their sparkle, are the core to most of our creations at Y Jewelry. The Austrian stalwart specialises in remarkably cut machine made crystals, with a shine that never fades.
The pendants and charms that hold the crystals, are available in sterling silver, gold and rose gold, to match your effortless style statement. The intricacy of the jewelry does not compromise on the durability. Every design is a journey, one that we take with great skill, care, and love. At Y, knowing how to work with Silver, Gold, and Crystals to bring out the most beautiful jewelry for you, is a passion from the heart. What you get is a unparalleled piece that effortlessly shines through, no matter the look you are going for.
Shop from our specially curated Diwali edit that encompasses neck chain, hoop and bracelet sets. A favourite of ours is the Swarovski encrusted sautoir like necklace is a representation of fine Y Jewelry; or even our Indian Soul set that is an ode to the amalgamation of the different facets that make the country unique. India, where more dreams are released and realized in India than any other country in the world! We can assure you that it will grab every eye in the room, simultaneously adding some glamour to your festive avatar.
Diwali, the festival of lights – the time of the year we most look forward to is the perfect time to sparkle. And we make the deal even sweeter! On your first purchase on the Y Jewelry website, we gift you Swarovski crystal studs, to help you shine brighter!
Browse our collection to find your favourite piece, and remember don't light firecrackers, wear Y Jewelry and be the firecracker – be ambitious, be resilient, be who you want to be. Find what defines you and #SparkleYourWay, because you are perfect just the way you are.