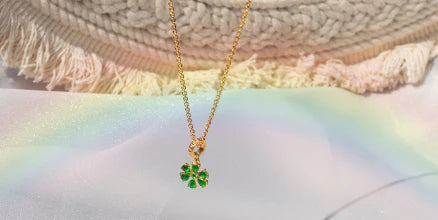 Shine Bright Like a Diamond
Stunning ombré sunsets, outdoorsy picnics and joyous evenings of slumber with your loved ones – doesn't that sound like a dream day? Even though the ongoing pandemic might have cast some shade on our plans to enjoy the great outdoors this season, that doesn't mean you can't put your feet up, stay indoors and enjoy a little dress-up time of your own. 
Whether it's a virtual wedding party, weekend mimosas with your girls or a zoom event, Swarovski crystals embedded in our charms are sure to make you shine through, no matter. It's also the perfect occasion to pull out  your favourites from the good ol' jewelry box and take some fresh trendy pieces out for a spin. As a minimal yet striking Y girl, you get to flaunt the most dazzling combinations of everyday jewels you can sport in the sunny days ahead.
It is popularly said that 'the eyes are the window to ones soul' as they often express emotions that words cannot possibly suffice. If there is one motif which has stood through the test of time across global trends it is definitely The Evil Eye. With a rich history dating back to ancient
civilizations, the Evil Eye charm has traditionally been adopted by many cultures around the  globe as a symbol of protection against harm. A positive force, the charm helps the bearer to  deflect bad feelings or evil away. Y jewelry's evil eye collection in sterling silver is an embodiment of this ancient yet contemporary symbol. With a wide range of pieces to choose from, you can have your pick. Of course, it doesn't hurt that each charm comes decked with Swarovski crystals to add an understated glamour that's unparalleled.
Bling that breaks norms should be on your mind for your next splurge. While classics always stand the test of time, some trendy pieces are definite conversation starters. Layered necklaces are having their moment in the sun and we are here for it. So, for the next event that beckons you to dress to the nines and finally show that summer ensemble the light of day, your jewelry shouldn't just compliment, it should stand out. A stack of layered necklaces spangled with statement charms are just what you need to style a summer dress this season.
The ongoing pandemic brought with it work from home mandate, which let's be honest can be quite a monotonous. While a lot of us are utilizing this time work on ourselves & do things we never got the time to do before – we do miss the weekend getaways and staycations of the pre-pandemic days – a time to unwind, relax and let the worries behind. The soothing sounds of the waves, cool sand between  your feet, a plunge into the pool to beat the heat – these are priceless moments that we all crave amidst the daily hustle. Currently, all of us are craving that ideal tropical staycation and  one needs a perfect accessory for it, even if we are mentally at the beach. To channel our inner bohemian goddess, Y Jewelry has the ideal collection of charms, necklaces, earrings and bracelets that are reminiscent of happy memories. So, it's time to close your eyes, sip a cocktail, mentally transport yourself to that vacay and look as cool as a cucumber doing so!