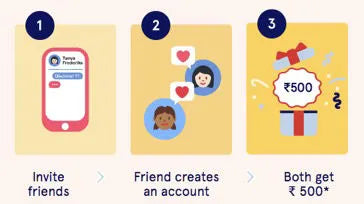 At Y Jewelry, we believe we are a family; and with every purchase, our family gets larger.
So why not add your family, friends into our wonderful world.
Our Chain of Care initiative is a simple – spread the word, have someone you know make an account (no purchase necessary) and both of you can earn Rs. 500 in your Y wallet. You are free to invite as many friends as you like. In fact, the more you invite, the more cash back you receive when each of your friends creates an account. So, it's limitless!
In addition to the direct sign up credit earned, each time your friend places an order, you will receive 5% cash back in your Y account. And when your friend's friend places an order, you will 2.5% cash back in your account and so on.
So, Chain of Care is an opportunity to earn cash back not only from your network of friends, but from your friends network of friends too!
Formerly known as the Chain of Charms, reminiscent of the old-school chain letters, we have during this pandemic retitled it to Chain of Charms – because we want you to be kind. While this network forges ahead and you are benefitting through credits, you are also supporting a community that needs assistance.
With each friend of yours that makes a Y Jewelry account, we donate Rs 100 to a very special NGO – Aravindam Foundation that provides nutritious meals for underprivileged children.
All it takes is a minute to sign up and another to refer a friend – and our #ChainofCare travels a little further. With each person we add to the network, we make a difference to a child in need. Since we started this campaign, we have been overwhelmed with response we have received.
As soon as someone you invite creates and account, the cash back gets updated automatically in your account, as well as for Aravindam Foundation.
It's a seamless process, and you can enjoy ongoing benefits simply by starting the chain to invite friends and ensuring they sign up, so get started now!