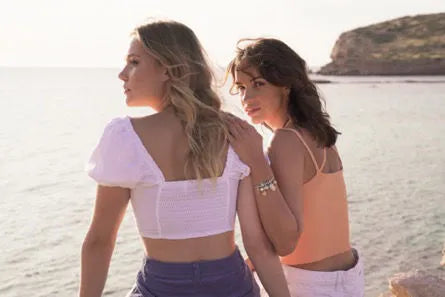 Charm bracelets are symbolic – the selection of each charm depends on your past experiences, your understanding of yourself and where you want to go. It is a personal journey, because you are trying to define who you are and fortunately there isn't one size that fits all. We, at Y Jewelry, want each piece to be as unique as you are. We want each charm on your wrist to tell a story, one about you…
There are many bracelets, ripe for your choosing, that vary between textured and classic silver/gold plated. And then the sky is the limit when it comes to choosing between over 400 charms that are already on our website, and we are adding more every week.
The journey to self-discovery begins with your selection of the bracelet. If you are young and edgy, we recommend the leather bracelet; traditional and someone who loves all things classic and evergreen for a polished bracelet; light and flirty – the wonder beads; and if you are lighthearted and ready to have some fun, the macramé string bracelet. The colour selection within each set enables hyper-personalisation.
The charms add on the layers to your story.
Are you the one who loves chasing your dreams or the one who has a mojo for good dreams only? Our dreamcatcher is perfect for the boho girl – carefree and goes with the flow. 
Do you have it all? The job, the style, the life, the fun. Are you the Boss Babe, who has the drive to work hard and is always on the go – work or play? A serrated polish bracelet made chunky is perfect for even a desk-to-dinner look.
Are you the grounded soul, the one with the faithful heart who knows that there is guardian angel looking over you and you want to be reminded of that at each step of the way?
Or are you the edgy go getter, with the courage to take on the world, singlehandedly. Celebrate yourself with something fierce!
The world has limitless possibilities and so do you. We, at Y Jewelry, believe in individuality and you being the best you there is. So, find yourself and if you don't want to be defined by 4 or 5 charms – you can always change them up whenever you feel like – just snap on the person you want to be. It's as easy as that!