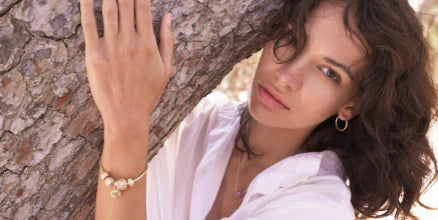 Charms have longstanding relation with evoking emotions and expressing yourself. In the Egyptian era, charms were used to ward off evil, to signify their path or even display their individual ranks. Not much has changed since and charms are now a way to express your diversity & individuality through self curated, unique jewelry pieces.
At Y Jewelry, our thoughtful designs & meticulous craftsmanship allows you to represent your own brand of DNA & identity. And our wide range of charms ensure we've got something for everyone! Let us help you find charms that resonate with you the most -
The Adventurer
If you're someone who lives to travel & explore the world, feel enriched amidst new surroundings and experiences and documents them through your own unique lens then we've got charms that will fit just right for you! Wear them as tokens of your most cherished memories or as a reminder for many more such adventures in the future.
The Avid Reader
If you're someone who loves to immerse yourself in the enthralling make-believe world that lies between the pages of a book or someone that feels inspired with life lessons imparted by great role models then our Bookworm Charm is the one for you.
The charm represents individuals with a penchant for gaming. The ones that thrive on the adrenaline rush and unexpected moments that turns into victories. Every obstacle is an opportunity to seize and every opportunity seized brings you a step closer to achieving your goals.
If you live by the motto of shopping = cardio, if you look forward to trying on new styles and getting your hands on the latest fashion, gadgets, accessories etc., if your phone is packed with updates from brands calling you out to swipe that card & own your favourite pieces and when doing so, you feel a sense of accomplishment. Your friends look up to you for advise on their next big buy because you're the uncrowned Guru for all things shopping!
The Fit Fam
The perfectionists, the hustlers, the ones that never give up. The Bow Pose Yoga charm represents all those people who love to test their limits, conquer their fears and revel in their achievements. For such individuals, every day is a new adventure on the path to self discovery that really makes them who they are.