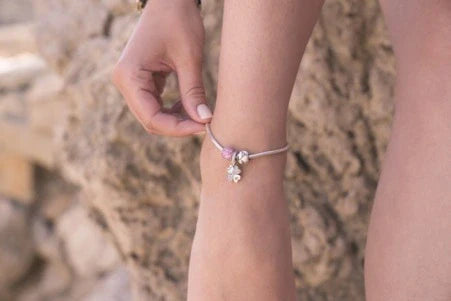 Pieces of jewelry are often marks of fond remembrances from happy times. At Y Jewelry, our mission is to ensure that our jewelry is designed to be your companion, an accessory that mirrors your mood and represents who you are. Every charm and every piece of sterling silver jewelry is hand-crafted and curated because companions for life, should be no less. They, just like your love for the memories, require to be cherished and held onto. To ensure your sterling silver Y Jewelry stays precious and shining as ever, here are certain care tips you can adhere to.
So while you take care of yourself, you should also take care of your jewelry. The intricacy of Y Jewelry does not compromise on its durability – the precious metals are carefully chosen, and the collection is made from 925 Sterling Silver with Silver and/ or 18k Gold Plating in the Silver and for the very small, delicate crystals, we glue them.
When putting away your jewelry, you should always make sure that they are kept separately. If you do not have separate jewelry boxes, or pouches, you can always keep them wrapped in a two-ply tissue paper – this will stop them from scratching one another. During the monsoon season, when not wearing them, you should store your jewelry in air-tight zip lock bags or boxes, to stop them from tarnishing. When we ship your piece to you, we also add a small piece of paper with each charm to avoid oxidation.
Fortunately, Y Jewelry charms and bracelets are treated so you can wear it all the time, but we do urge caution that when you go for a swim, do remove your jewelry before. This will slow down the process of aging. Chemicals age jewelry of all kinds – even perfumes, hairsprays, deodorants can trigger it.
As and when your Y Jewelry starts looking dull, you may want to clean it thoroughly. To do that, you immerse the jewelry for approximately 10 seconds in normal water and a mild cleaning detergent. Rinse the pieces thoroughly under hot water and rub dry using a cloth or a hairdryer.
Points to remember, oxidized items of jewelry should not be cleaned using a silver dipping bath or polished with a silver cloth as these may remove or wear off the oxidation. Only the silver parts of the jewelry should be cleaned using a silver cloth. Thread and leather cords must not be placed in a silver dipping bath or cleaned using an ultrasound device.
Wear and tear will happen – scratches are more visible on larger polished surfaces. External influences like scratches and tarnishing are normal signs of wear and tear and are not faults in the material – be it the polish, stones or even the enamel on the charms. Do handle with care.