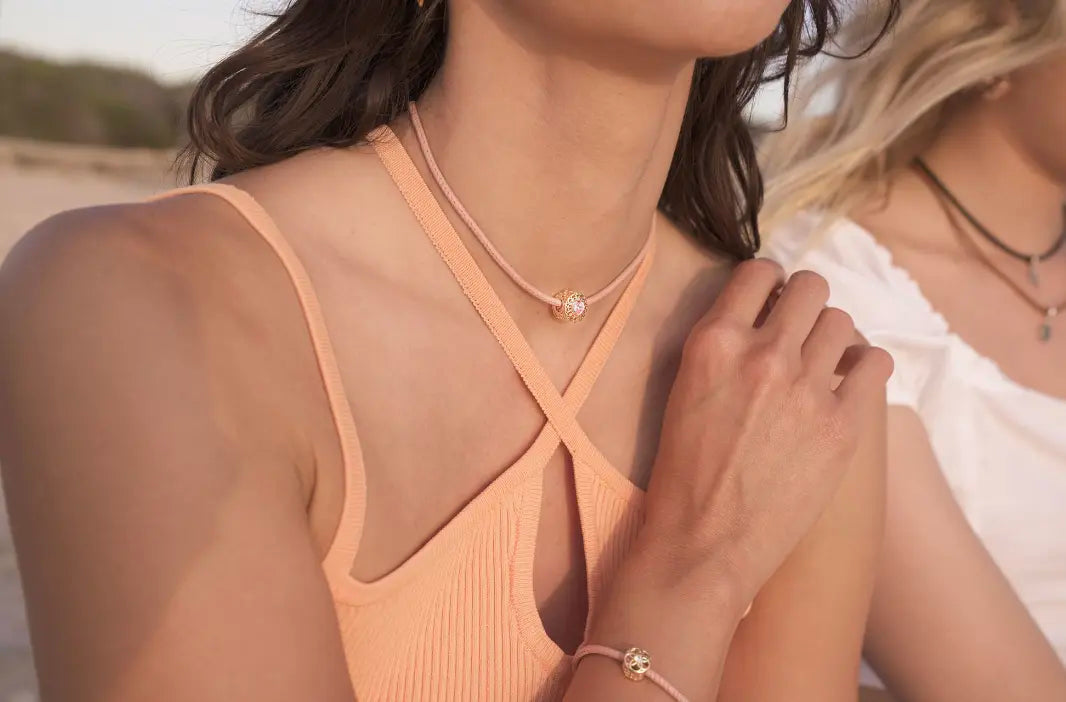 A Complete Guide To The Biggest Fashion & Style Trends Of 2023
Sifting through the sartorial avalanche of fashion and style trends has never been easier. We've put together the ultimate guide filled with next year's hottest looks, from bold and new to timeless classics, and the ones we're not ready to let go of yet.
Here are the top 2023 trends to carry you through what the new year has in store.
BUT FIRST… What is a trend?
Trends are the general direction into which something is changing, developing, or veering towards. Trends also represent what's hip and popular at a certain point in time. Think of how light and feathery '70s hair used to look compared to the voluminous hairdos of the '80s that were on trend only ten years later.
Such fluidity is driven by a shifting behavior in everything around us, from pop culture and society to politics and even the environment. No joke! For example, according to Business Of Fashion, Kim Kardashian's influence in beauty has struck the entire industry not once, but twice already in our lifetime.
In fashion and style, a trend occurs when a particular item, silhouette, color, or new look rises in popularity. Fashion trends are cyclical. Usually, a trend is introduced to the wide public (trend adopters) by trendsetters (also known as early adopters). However, once said trend rises to mainstream popularity, it will eventually decline until it gets rejected, considered outdated and unfashionable compared to the new, fresher craze of the moment.
However, due to the cyclical nature of fashion, the rejected trend may eventually re-enter the cycle after obsolescence. This is why your mom's high-waisted jeans from the '90s are back in full swing and Millennial skinnies are out-out. At least, for now…
Fashion Straight from the Catwalk
In the fashion world, trends unfold in real time. As you read our 2023 Trend Guide, designers and big brands have already designed collections for the season ahead and will send their samples to production very soon, which will be shown on the runway in less than 10 months from now.
Don't worry! Getting ahead of the curve with fashion trends can be simple, you just have to choose your go-to trend wisely.
The runways have spoken and the '90s remain the leading influential decade in today's style. So are the '80s. And let's not forget about the major Y2K revival. In 2023, the looks we've come to fall in love with, from today or yesteryear, will be taken to the next high-shine level.
1. Oceanic Opulence: Mermaidcore
Many of us had high hopes for the start of the New Roaring Twenties—a name for the 2020s that alludes to the 1920s moniker that spoke of the economic prosperity, glamorous fashion, and raging music of the long-lost decade.
As we know, Covid hit and we spent two years of our lives at home wearing comfy joggers and sweaters. But, remember what we talked about earlier? Fashion trends are a response to what's happening in the world around us. With the global pandemic (almost) behind us, fashion designers know it's time to celebrate and make up for the time we lost socializing and having fun.
LaQuan Smith & Proenza Schouler SS23.
For the SS23 season, brands sent gleaming looks down the runway with that much-needed hint of whimsical fantasy. At New York Fashion Week, LaQuan Smith presented a showstopping shell-shaped bralette á la The Little Mermaid's Ariel, paired with a rippling hip belt over a draped skirt that gave a tinge of chic, urban flair. Proenza Schouler did the same with metallic open-weave knits and beach-ready bell bottoms.

Chanel, Valentino, Paco Rabanne.
The underwater fantasy trend reached European shores—London, Paris and Milan—with fully-embellished looks made up of oversized sequins, resembling fish scales, in hues that recalled the colors of the sea. Designers such as Chanel, Valentino, Rick Owens and Paco Rabanne splashed the runway with a shiny, wet effect.
And let's also not forget about Disney's live-action adaptation of The Little Mermaid premiering early in the spring of 2023. Picture yourself in a shiny little number with sequins that sparkle with the gleam of light. Now that's what we call a New Roaring Twenties party!
Shoes, the Urban Stomping Ground
Trendsetters can often—if not most of the time—be found among us. Yes, YOU could be a trendsetter without even knowing it, as could the next guy crossing the street. Early trend adopters are confident in trying out different styles that are not in line with what the general fashion folk would wear at the moment.
Big apparel and footwear brands traditionally look to the cities and surrounding areas for insider inspiration and access to unique, underground forms of sartorial expression from a wide variety of styles and people.
In 2023, shoes will take a utilitarian turn with practical silhouettes for the modern working woman and lug-soled options for more bold and daring personalities.
2. Sole-Mates: The Flat Comeback & The Combat Boot
They say you shouldn't judge a person until you've walked a mile in her shoes. But let's be real, will those shoes fit your mood?
Everyone knows that shoes can make or break an outfit but they're also very telling of someone's personality and frame of mind. A woman with a love for stilettos will not have the same disposition to chill on the couch as a sneakerhead.
When it comes to choosing the perfect pair of shoes that will not only compliment our look, but also our attitude, there needs to be a well curated menu of options. Fret not, we'll give you the gift of a 2X1 trend.

From the street to the runway and back again. The Ballerina and the Combat Boot.
2023 will bring the acclaimed, and highly anticipated return of the flat. Also known as the Ballerina, this comfortable and elegant shoe has proven to be every fashion girl's favorite footwear as of late. A modern twist on the pirouette-ready pumps, you'll see flats in bright colors and metallics everywhere.
If you prefer the safety of a chunky sole, look no further than the lug-sole combat boot next season. Creating the perfect combination of timeless style and outstanding utility, the ideal 2023 combat boot will come in loud with embellishments—a bit reminiscent of the customizable, DIY flair of Punk subcultures—platforms and luxe finishes.
Whether you decide to go on-pointe or walk on stompers, make sure your footwear speaks for itself.
Color, Expand Your Palette
Color is powerful. Besides impacting our mood, emotions, and behaviors, color can also be a source of information. Fashion uses color as a fun way of communication, from bold branding statements (think: Bottega Green and Valentino Pink) to ways in bringing together like-minded people (think: Dark Academia vs Baddie aesthetics).
When it comes to color trends in style, many forecasting and research agencies like Pantone, Coloro and WGSN analyze data and social behavior in order to predict future major trends. Pantone selected Viva Magenta as the color of 2023: a shade rooted in nature descending from the red family and expressive of a new signal of strength, bravery and optimism.
As seen on the runway and the streets, 2023's palette speaks of an extreme contrast in people's mood: strong solid brights, nature inspired hues, pastels and rich gem tones.
3. Made You Look: Viva Magenta, Pastels And Monochrome
When it comes to personal style, nothing tells more about our mood and attitude than the colors we wear. Moreover, the associations we've put into certain hues (blue=calm, red=sexy, black=bold) make color a universal language.
Pantone's 2023 Color of The Year: Viva Magenta.
Pantone's selection of Viva Magenta as the color of 2023 suggests that the global attitude of the future will rely heavily on a combination of whimsical nostalgia and grounding, fiery nature. Underlined by the spirit of empowerment and fearlessness, Viva Magenta will invite people to make an electrifying statement and stand out from the crowd.
It was all a pastel dream: Loewe, Jil Sander, Moschino, Giambattista Valli.
The aquatic avalanche of the mermaid trend in fashion will bring dreamy pastel shades to our wardrobe. Soft lilacs, barely-there blue tints, and sherbet citrics like yellow and green, will bring a serene essence around us. Don't forget about pink though! The Barbie film directed by Greta Gerwig is scheduled for a grand release to theaters in the summer and is predicted to influence the way we dress, naturally.
Continuing the nostalgic vibrations of bygone style movements, 2023 will carry on the head-to-toe monochromatic trend we've come to adore in the last few years. Picture a combination of '90s minimalism and Y2K intergalactic modernity.
Beauty & Hair: Reinvent Your Look, Change Your Live
Refreshing our minds is always a good idea, especially as we embark on an exciting new year. But reinventing our look is as powerful as your next appointment with your therapist.
As a new season or year begins, many of us find ways to bring fresh, new takes into our lives in order to shed some of the past. Sometimes, little changes like a new haircut or adopting a new lipstick shade can wipe clean the slate and help us embark in a new era.
In 2023, experts predict a rise in natural simplicity in the hair department: cascading curls, warm tones, shiny tresses, glossy blowouts. In beauty, we'll see bedazzled looks akin the mermaid trend in fashion and fresh, barely-there makeup.
4. I Got It From My Mama: Au Naturale
When we think of makeup and cool hair, we tend to picture an elaborate, long ritual of beautification and self care. We think of polished and perfected makeup (we're looking at you, laminated brows) and forget about the unique features we were born with.
In the new year, we'll see the curly hair method still going strong alongside curl-friendly haircuts that will only highlight the springy nature of these tresses. The nostalgic boom in hairstyling won't stop either: nineties blowouts, seventies shags and mullets, swinging-sixties pixies, and sleek lengths from the naughties will continue to rule.
Zendaya's 'shullet' (shag + mullet) is one of the biggest hair trends for 2023.
Reinvention will be left to the art of hair color, but in natural-looking tones. Pastels will make a return to the stage with marine hues and beachy, sun-kissed dos.
With makeup, we predict there will be two kinds of people: the Playful Camp and the Less-Is-More Team. The Playfuls will get their hands busy in futuristic metallics and embellishments—again, the influence of Mermaidcore and Y2K is limitless. Our continued obsession with AI, the Metaverse and Euphoria will also be responsible for our liking of this kind of whimsical makeup.
For better or worse, Instagram and TikTok remain important channels for people to discover new trends in beauty. Perhaps, one of the positive discussions around the matter is the sudden embrace of skin's imperfections and natural textures. This awareness will make life easier for the Less-Is-More folk who prefer using a little bit of makeup on their face to enhance their natural beauty.
Jewelry, It's All In the Details
Accessories play a huge role in building our outfit for the day. Displaying focal points here and there, encapsulate the perfect finishing touch to your entire look. Just like fashion, jewelry is very personal and dynamic. When it comes to jewelry and accessory trends, choose the ones that feel most authentic to you and make sure you make them your own.
Minimal or maximalist; adventurous or reserved. 2023 will offer a list of jewelry trends for every taste, big and small, inviting us to play with different proportions, textures, and materials. In fact, plenty of today's biggest jewelry trends have been popular in the past, which means that your mother or grandmother could have a couple of items you can borrow.
The key to a carefully curated arm party, ring stack, or earscape is creating a compliment-collecting arrangement. If your style is more minimal, the new season promises dainty pieces and statement staples for an elegant finish.
5. Uncut Gems: Custom Treasures
Closest to the body, jewelry creates an intimate bond with the wearer. As an extension of your look, your jewels ground your essence from earlobe to anklet.
In 2023, customizing jewelry will offer a myriad of stylistic options allowing for authentic individual expression. Reminiscent of the Punk movement's DIY style, this year will give us the chance to create unique combinations of metals, textures, and sizes to adorn our body.
As seen on Chanel's SS23, crystal-studded name chokers, just like in collections by Gucci, Diesel, and Moschino. Charm bracelets are the perfect excuse to add a little name game to your style. Get cues from Chanel and start with Leather Choker Neck Chain in your favorite color, then add any drop charms from our Alphabets collection to spell your name. A little 2000s Paris Hilton, a bit 2023, and a whole lot of fun!
Y Jewelry Leather Chocker Neckchain
In fact, today's biggest jewelry trends actually were already popular in the past. There may be a few items in your mother's or grandmother's closet you'll be able to borrow from.
Seashells and natural beads made lots of cameos on the accessories front this season as well. Our Treasure The Ocean Charm captures the underwater magic of this trend, available in 925 sterling silver and 18k rose gold or 18k yellow gold plating. Add a Creamy White Trinket to show your love for the sea like the mermaid you are. This charm-ing combination encapsulates a stunning white pearl, subtly blending two of our favorite 2023 jewelry trends: pearls and shells.